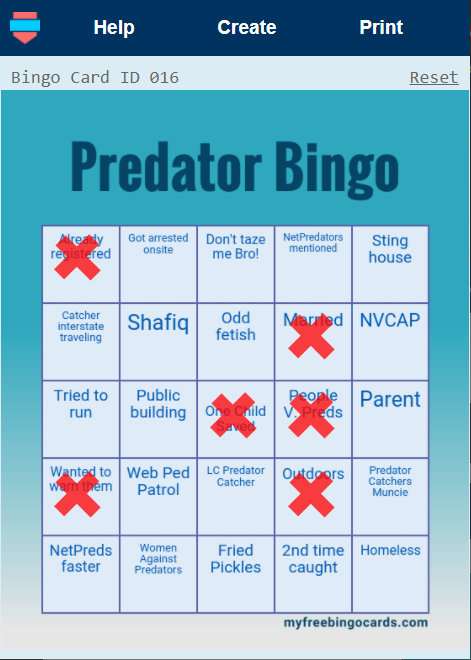 Introducing Predator Bingo!
We at NetPredators are always trying to do the best that we can to provide for this community. We have been talking about making a Bingo game that includes common things the predators say, or things that regularly happen.
Right now this is only a test, and things may change in the future. We may remove some words, change the format, change the rules, and we reserve the right to do those things without notice. We don't even know how often you will get a new card.
Eventually I would love it if I could get catchers and decoys to give out free clothing or other merchandise to the winners of the Bingo.
What are the available squares?
Just wanted to talk
Wanted to warn them
Got the wrong person
This is my first time
Different name
Brought weapon
Brought condoms
Brought sex toys
Already registered
2nd time caught
Female predator
Married
Parent
Got arrested onsite
Tried to run
Live decoy
CC Unit
Predator Poachers
Colorado Ped Patrol
Predator Catchers Muncie
Predator Catchers Indianapolis
Don't taze me Bro!
PP Mass
NVCAP
People V. Preds
Ramy
Couple
NetPreds faster
Homeless
LC Predator Catcher
Odd fetish
Shafiq
Web Ped Patrol
Women Against Predators
Collaborate and Listen
Has warrants
Pred interstate traveling
Catcher interstate traveling
Fried Pickles
NetPredators mentioned
Sting house
Outdoors
Public building
Rules
Have fun
No cheating
No poor losers
Why would you make a joke our of such a horrible thing?
This community it already plagued with negativity. With providing to the community and trying to become a central hub for all things predator catching related, we want to add as much positive things as we can to this community. If eventually I can get t-shirts and sweatshirts merchandise as prizes it could really help spread the word and raise awareness to the community.
We do not intend to downplay or make a joke out of any of this, just purely trying to do good.