Weekly News – Sunday January 8th, 2023
I'ma keep this post short.
Edit: I got around to adding in a lot of information. It's been an exhausting week.
Welcome to the new NetPredators
As you can see, the upgrade has been a success. The front page is filled with more information, more categories of different post types, and overall looks a lot more of what I would like to see. The old way was setup to be more like a blog.
New Features
With this website upgrade, we were able to sneak in some nice features. Although, not everything we had hoped for would make it in to this round of website upgrades, namely the wiki feature that we were toying with, but may come in a future upgrade or may be replaced with an even better idea.
Onto the new features!
Galleries
The image galleries used in posts are now much better, although some bug exist. You may now click on an image in a gallery and you will get a zoomed view of the image as well as arrows to switch between the images while in zoomed mode. This may sound little, but the old way was a pain in the ass when you wanted to read all of someone's chatlogs.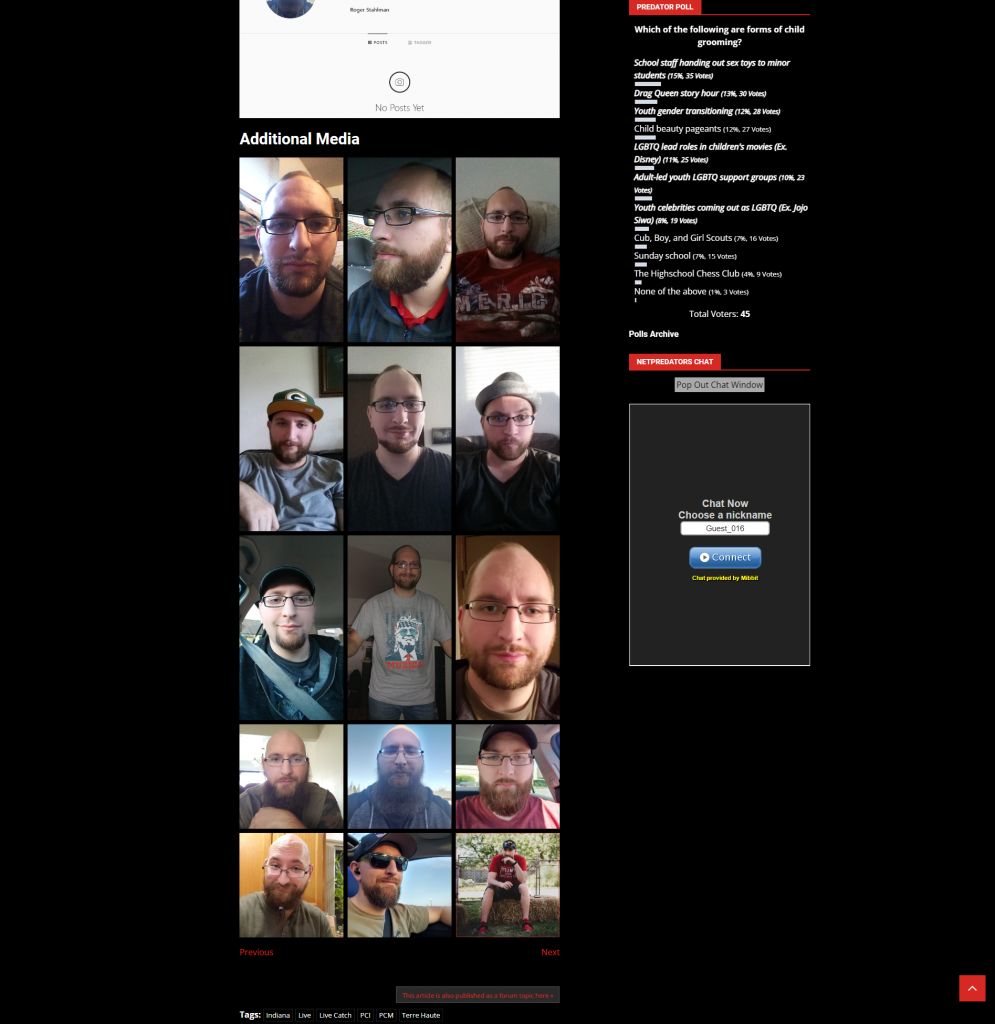 As I said, there are a few bugs with it. Sometimes images in galleries may not be clicked to zoom in on them, or galleries may be displayed with images stacked. Hopefully those will be ironed out soon enough.
YouTube Autoposting
There is a new feature to the website that automatically makes posts on the website for any YouTube video, livestream, or premiere that happens for any channels that I have this feature enabled for. This is great for people that decide to take RSS feeds from our website to get notified of the latest YouTube videos.
An even better benefit of this is for comments. The comments made on these posts will always exist even after a video gets taken down or a whole channel gets nuked. Information about a predator that the community contributes, and all other information will remain. Even if a catcher decides to private their video after a catch happens, there will still be a place to document and discuss the catch, decoy calls, or whatever else happened in that video.
This also helps keep a good timeline of events that happen on a channel. What if a catcher does a catch, but YouTube takes down the videos of the catch and decoy calls before it gets to courts and the prosecutors get the chance to download the videos? Having these things documented can be extremely beneficial to our community as a whole.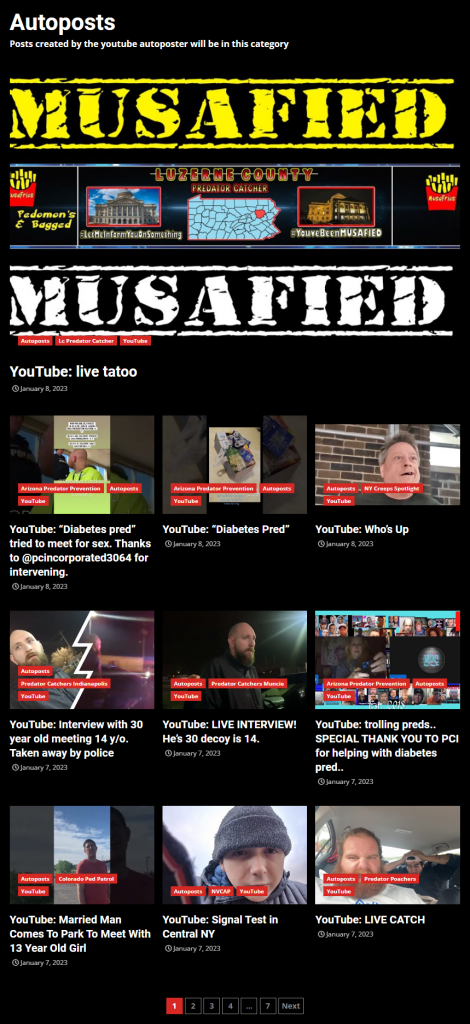 Catalog Entry and Forum Thread Crossposting
It is now enabled that whenever a catalog entry post is made, there is a corresponding forum thread made as well. This exists for the purpose to help our growing community be able to provide further information to assist in documenting the predators current and future online activities, legal updates, and other discoveries.
You will notice the following button at the bottom of every Catalog Entry post that will bring you to the corresponding forum thread.

An inadvertent side effect of this feature made it that we had to disabled anonymous commenting. As such, I may end up completely disabling commenting on posts in favor of people commenting strictly on the forum thread instead. The forums are a much better and cleaner way to overall communicate and document the predators and it enabled much better features and formatting as well.
Another side effect is that image galleries will always be stacked, so any post that contains a lot of images and chatlogs can make for an extremely lengthy first post of a thread. I can disable that or work it a little differently. I will just have to judge how things go overtime and adjust as needed.
Note: This feature is currently only enabled for catalog entries. In the future we may enable it for other post types. We have this limited as of right now because if we were to enable it for things like the YouTube Autoposts, then the forums would become quickly overloaded with absolutely unnecessary threads. If there ever is the need for a thread to be made about a specific YouTube video, then it can be requested or a standard member can even make a forum thread and inform me about it and I will link it in the post.
Forum Thread Media Attachments
In addition to the above forum feature, I have enabled it so that users can upload images and other media to the forum threads and embed them into the posts. This little feature is going to help greatly in the long term as more people provide information on predators that have been caught. A user could already upload a file, but before it would only show up as a link that could be opened or downloaded. Now being able to include the images inline with a forum comment makes things just that much friendlier for documentation and legibility purposes.
This is one of my most favorite features included with this upgrade.
Website members now have the ability to help catalog these child predators and further contribute to helping make our world safer by exposing these dangerous monsters. The pictures below rather speak for themselves as to what information may be submitted.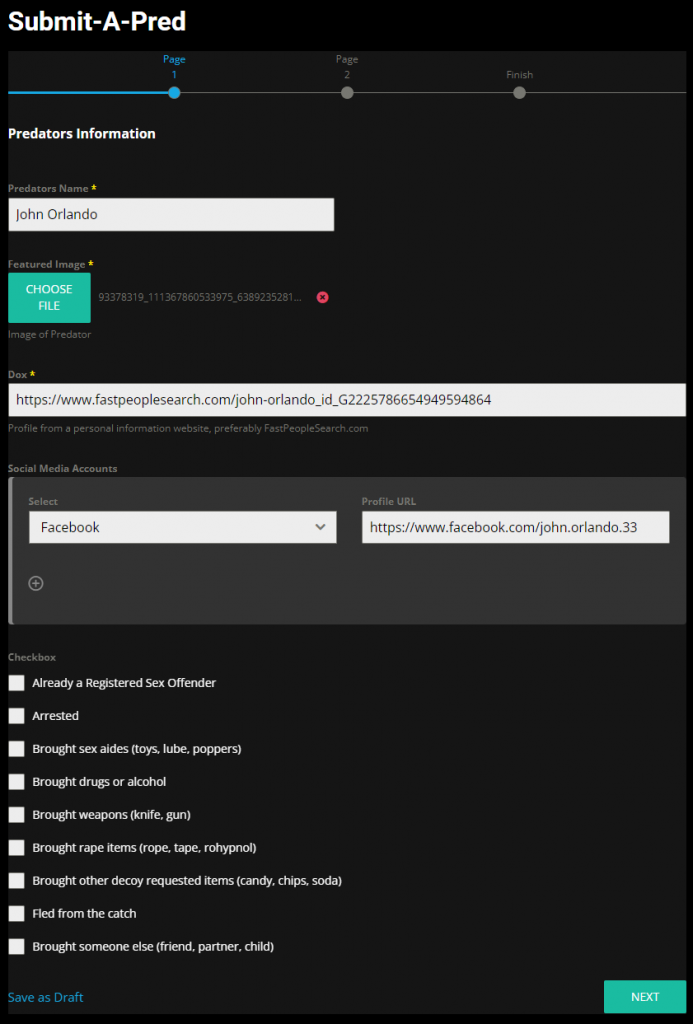 Upon a successful submission, I will be able to review the information and publish the post. On the final page of the form, users are able to choose if they want to stay anonymous or have their username credited for the submission. This will be extremely useful in a future website upgrade where we will have monthly and yearly leaderboards that track the users submission amounts. This could culminate into many more fun things to encourage the community to help catalog these monsters.
Other smaller features
There are a bunch of smaller things that we did to the website to help with navigation, organization, and ease of use. There are many of them that you may discover as you explore our website. For instance, our menu bar has a few additions and changes to it.


We will touch upon the new menu items and things that have changed. From left to right, starting with this little bugger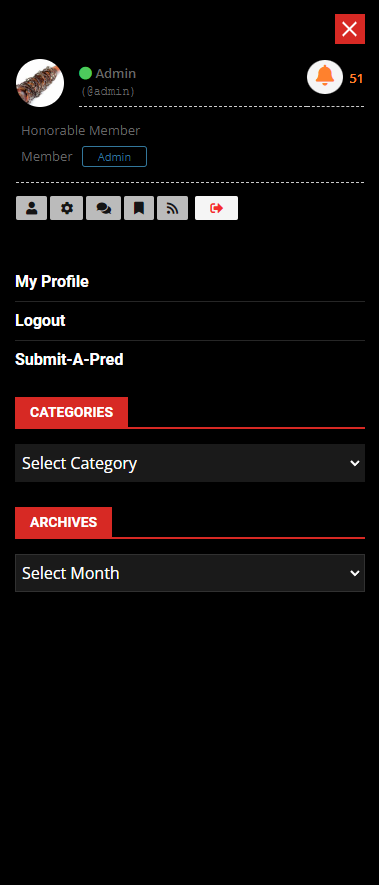 Off Canvas Menu – Provides quick access to additional functions. This menu is not heavily populated right now as we have plans for this space in a future website upgrade
Predator Catalog – This is a direct link to the Predator Catalog category that is page indexed. Easier way to sort through only the Catalog Entries
Forums – This is now also a drop down menu with links to major subforum categories
Resources – Although there is not many items under this expandable menu, it will soon enough hold pages of information for people seeking help or those that want other resourceful information. Currently we have an article on how to help catalog predators and another on how to help the community.
NetPredators Chat – This was just a single menu item before that would bring you to the page that explains our chat feature, but now also includes a drop down menu for those that want to easily open a chat in a new browser tab. Simple, but helpful.
Submit-A-Pred – As we discussed this feature above, I will just say that we have places a link here directly in the menu bar.
The Old NetPredators
I think it is very much worth it to take a moment to look at the previous way that NetPredators looked, in case anyone quickly forgot. Although it was much simpler, it was also where we started. And it all did start with a single post to our website. Certainly could not have had a front page full of content when we had next to nothing for posts or even different categories.
We came into this not knowing what to expect, how far we would go with it, or if it was even worth the effort. Although we have had a few minor setbacks and some resistance from some people in the community, we overall have had a great first full year and first iteration of our website.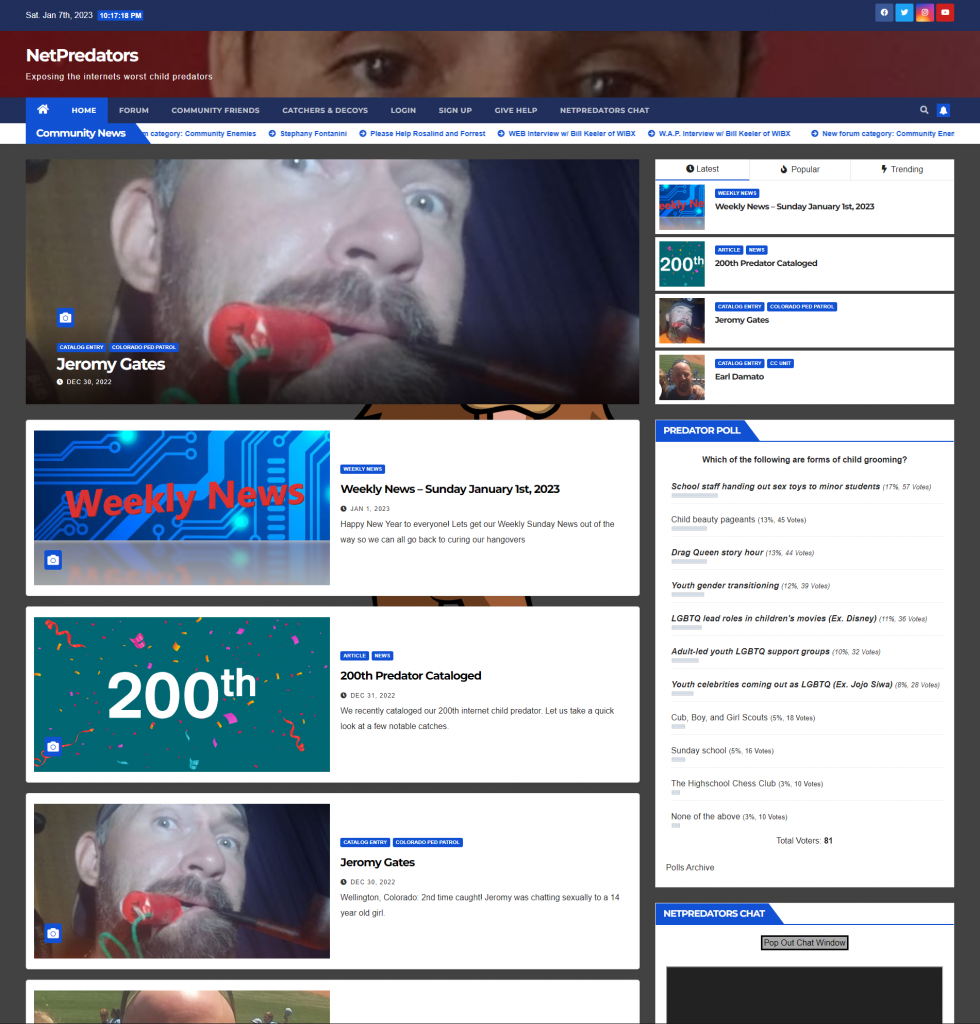 Looking Into The Future
I envision NetPredators to eventually become the official hub for all things predator catching related. NetPredators can also become a great resource for law enforcement as we catalog more predators and get more catcher and decoys onboard with us to utilize our other services like file and video hosting.
Our current setup may only work for the next year or two before we need to change our site framework to something much more robust or develop a completely custom backend (wishful thinking). As of right now, our next major goal is to implement monetization for the catchers and decoys in a way that they can tailor advertisements to their liking that will get displayed on their videos and other content. We also want to enable a subscription based feature that for catchers and decoys to be able to utilize as well. Although we have not done a huge amount of research into it yet, this should not be too difficult to make happen with our current framework.
Thank You
Again, I want to thank all of you that have been here to support and encourage us. Without the community, this website would not and could not exist.
From the catchers to decoys, to the trolls and drama seekers, to the viewers, and most importantly, the survivors, you are all extremely important in this community and we are grateful to be a part of this movement with you all.
From us here at NetPredators, we love you and look forward to many more years of catches and adventures with you all.
Thank you.